4 Best Outdoor Hot Tub Trends Making a Splash in 2023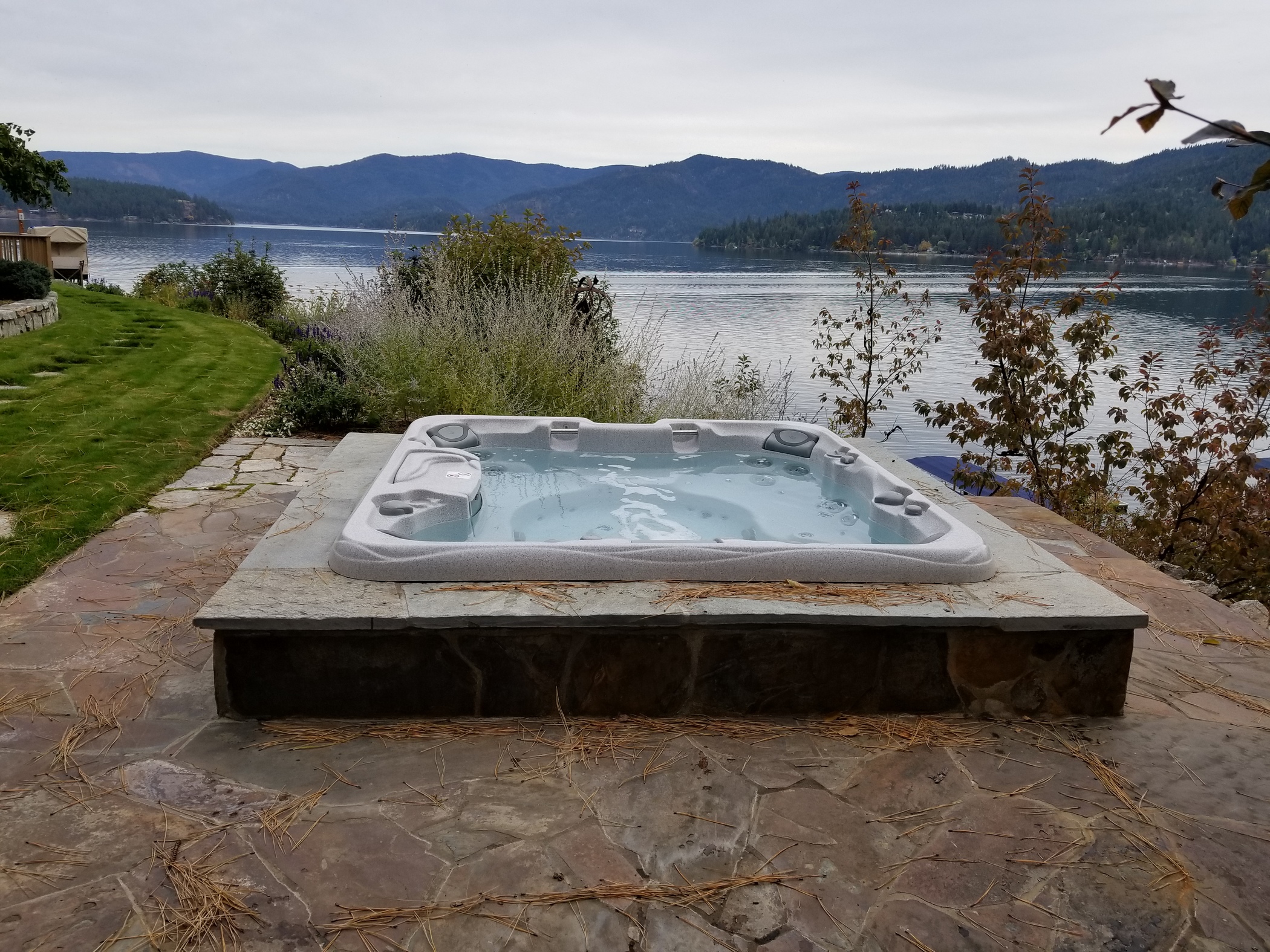 If you'd like to give your backyard a facelift this year, but aren't sure where to start, you've come to the right place. Our list of the best trends for 2023 will inspire you to transform your backyard space into your own personal oasis.
1. Built-In Hot Tub
If you have plans to install an outdoor hot tub in 2020, then a built-in spa is the way to go. One of the top outdoor trends this year, a built-in hot tub allows you to seamlessly incorporate it into your current landscaping.
You can customize the installation so your spa fits in with your current back yard. If you're also installing decking or a patio, you can have the spa built right into your deck or stonework. If you're foundation is already in place, the spa can be installed on it. Tying your spa into what you already have is as simple as building around it with your preferred material and adding some steps.
2. Covered Pergola
A covered pergola is both a practical and decorative way to shield your outdoor living area from the harsh sun and rain, making it easier to stay outside, no matter what the weather.
Where you install comes down to preference, but some of the most popular choices include over the hot tub, outdoor kitchen or sitting area. If you opt for a wooden pergola, you can customize the stain to match your current decking or stonework.
Making it look magical at night is as easy as stringing lights from the roof or hanging them from the beams. Lights can also be installed on the pergola's supporting posts while with the up-lighting method, they are attached to the bottom of the pergola stand.
3. Outdoor Kitchen
No matter how much or how little space you have, you can have an amazing outdoor kitchen. A stone or wood grilling station is always a great choice and can be as large or small as you need it to be. A wood-fired outdoor pizza oven is also a popular choice this year. Traditionally made of brick, these rustic units don't take up a ton of space and ensure you lots of delicious pizza.
If you have a traditional barbecue, you can build a bar next to it, which can double as a prep and eating space with the addition of some stools. Of course, no outdoor kitchen would be complete without a dining area. Whether you opt for a rustic table made of reclaimed wood, or you buy a set at the nearest hardware store, you can spruce it up with colorful accessories and pillows or seating pads.
4. Low-Maintenance Gardens
Who wants to spend every Saturday weeding? If you'd rather enjoy your backyard than be working in it, planters are the way to go. Choose from wooden boxes, stone urns or colorful ceramics based on your landscaping theme and fill them with greenery such as ornamental grasses, succulents and small bushes.
If you enjoy color, there are a wide variety of flowers that do well in pots. Your blooms, first and foremost, should be selected based on the amount of sunlight or shade your area offers. Color, your second consideration, should be chosen as a pleasant contrast to your outdoor furniture and other accessories.
Outback Pools and Spas
If you're ready to give your backyard a facelift, get in touch with us at Outback Pools and Spas. As the provider of the best hot tubs and swimming pools in Wichita Falls, we can help you find exactly what you need to transform your outdoor living space.
Come visit us at our 3923 Kell E. Blvd. showroom to check out the wide array of Sundance® Spas hot tubs we have in stock. Whether you're seeking a spa, a swimming pool or both, one of our experts would be happy to help you find the models that will best suit your needs and budget.